You are here
The HKJCDPRI Participated in World Association for Disaster and Emergency Medicine (WADEM) Congress 2019
The HKJCDPRI Participated in World Association for Disaster and Emergency Medicine (WADEM) Congress 2019
Two representatives of the Hong Kong Jockey Club Disaster Preparedness and Response Institute (HKJCDPRI) participated in the World Association for Disaster and Emergency Medicine (WADEM) Congress held on 7 – 10 May 2019. The WADEM Congress is a biennial international event which provides an interactive and stimulating environment for participants to share research and findings, exchange ideas and best practices and network with peers.
With a theme of "The Future", the Congress 2019 held in Brisbane, Australia included over 30 tracks with high profile speakers, as well as a wide range of interactive sessions for participants to share experience and knowledge gained from their work. During the congress, the HKJCDPRI representatives shared two projects with congress participants at the poster presentation and oral presentation sessions.
During the poster presentation session, Ms Angel Ng, Senior Manager of the HKJCDPRI, presented a study entitled "Mental Health Impacts on People Living in Subdivided Flats in Hong Kong". In collaboration with the Hong Kong Sheng Kung Hui (HKSKH) Lady MacLehose Centre, the study was a mixed quantitative and qualitative study to investigate the impact of poor living conditions such as fire risks, environmental health risks and other chronic health issues in subdivided flats on the residents.    
During the oral presentation session, Ms Tiffany Yeung, Manager (Professional Development) of the HKJCDPRI, shared with the audience a survey conducted by the HKJCDPRI entitled "Typhoon Preparedness Measures of the Hong Kong Public for Typhoon Mangkhut" and its associated survey findings. The aim of the study was to understand the general Hong Kong public's awareness and views on the super typhoon that slammed Hong Kong in September 2018 and precautionary measures carried out. The public's information seeking behaviours and self-reported confidence in their knowledge on typhoon preparedness was also investigated. More details of the study and the analysis can be seen in another report (click this link).
Since 2015, the HKJCDPRI has actively participated in the WADEM Congress by sharing of experience and exchange of ideas with the congress participants. The knowledge and insights gained for the HKJCDPRI's learning for continuous improvement of work is invaluable.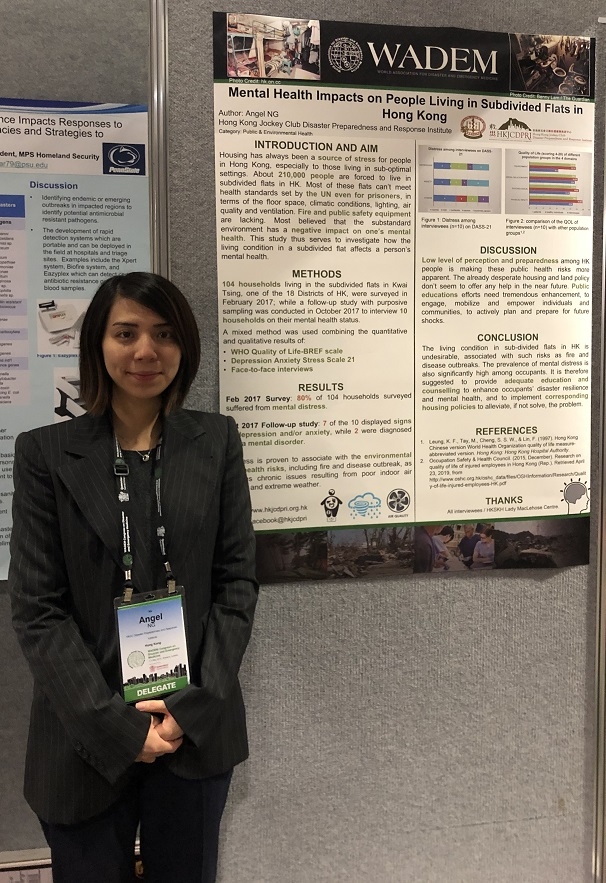 The HKJCDPRI staff, Ms Angel Ng (Senior Manager), presented on "Mental Health Impacts on People Living in Subdivided Flats in Hong Kong".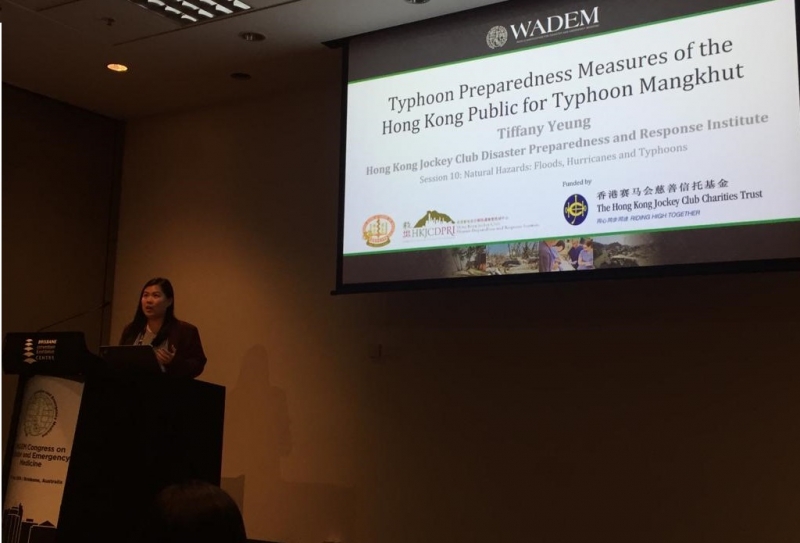 The HKJCDPRI staff, Ms Tiffany Yeung (Manager (Professional Development)), presented on "Typhoon Preparedness Measures of the Hong Kong Public for Typhoon Mangkhut"