You are here
World Health Organization Foreign Medical Team Development
29 December, 2016 Thursday
World Health Organization Foreign Medical Team Development

On 8 April 2015, the World Health Organization (WHO) announced the newly set up Global Foreign Medical Teams Registry which would enable WHO to build a global roster of foreign medical response teams (FMT) ready to be deployed in sudden onset disasters such as earthquakes, tsunamis, cyclones, floods, and disease outbreaks.

WHO FMT Initiative is a coordination mechanism that aims to support governments and build capacity during a sudden onset disaster or disease outbreak. Upon request of the government of affected country, the FMT coordination cell assists in identifying medical care gaps and then draws upon registered FMTs to fill these needs. Only at the request and in adherence with the affected country's government will WHO FMT act to coordinate medical team deployment. 

Dr Kevin Hung, Director (first right on the third row), and Ms Eva Lam, Assistant Director (first left on the third row), participated as temporary advisors in the WHO Informal Consultation meeting.
Two representatives of HKJCDPRI, Director Dr Kevin Hung and Assistant Director Ms Eva Lam participated as temporary advisors in the WHO Informal Consultation on Strengthening National and Foreign Medical Teams in Response to Disasters WHO Western Pacific Region Office held on 21-23 September 2015. The meeting gathered experts from WHO, International Federation of Red Cross and Red Crescent Societies (IFRC), Association of Southeast Asian Nations (ASEAN), representatives from China, Japan, New Zealand, Solomon Island, Vanuatu and the Philippines to discuss lessons learned in recent FMT operations and the way forward. Reflections and lessons learned were shared from recent FMT operations in response to earthquake in Nepal, typhoon Haiyan in the Philippines, cyclone Pam in Vanuatu and Ebola virus disease in West Africa. The consultant team also suggested issues to be considered in global revisions of the Classification and Minimum Standards for Foreign Medical Teams in Sudden Onset Disasters and reached consensus on steps for the development of operational guidance to strengthen surge capacity of national medical team in response to disasters.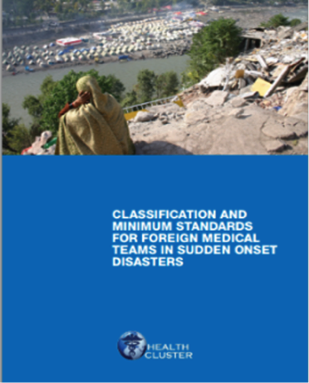 http://www.who.int/csr/resources/publications/ebola/foreign-medical-teams/en/
Published in September 2015, the document on "Classification and Minimum Standards for Foreign Medical Teams in Sudden Onset Disasters" introduces a simple classification, minimums standards and a registration form for FMTs.
In the Annual Conference on Disaster Preparedness and Response 2015 co-organised by the HKJCDPRI and Hong Kong College of Emergency Medicine (HKCEM), a session covering the topic of WHO FMT development was delivered by Professor Tony Redmond who is a Professor of International Emergency Medicine, and Deputy Director of the Humanitarian and Conflict Response Institute (HCRI) at the University of Manchester. He is also the Director of UK-Med which hosts the UK International Emergency Trauma and Medical Registers (UKIETR) (UKIEMR), the national resources funded by the UK government that draw together clinicians to form a national surgical/emergency response to large scale sudden onset disasters and emergencies.
Professor Redmond shared with the audience how the initiative of UKIETR and UKIEMR supported the WHO FMT office in providing quality humanitarian assistance in sudden onset disasters. The HKJCDPRI envisaged that the global discussion and efforts on improving FMT quality and efficiency will continue in coming years.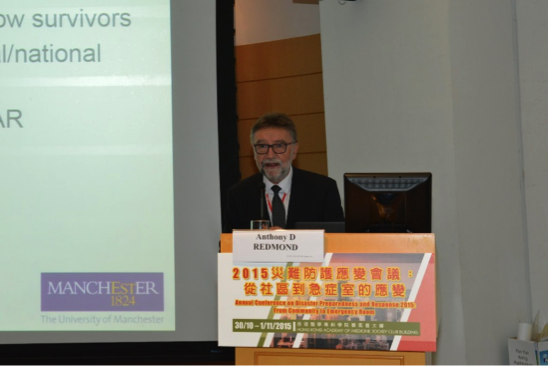 Professor Tony Redmond delivered a talk on "Foreign Medical Teams: Lessons from UK" during the Annual Conference on Disaster Preparedness and Response 2015 in Hong Kong