You are here
World Disaster Report 2018 - Leaving No One Behind, Published
World Disaster Report 2018 - Leaving No One Behind, Published
The first World Disaster Report​ was published in 1993 with the aims of bringing up the latest trends, facts and anlysis of comtemporary disasters and the impact of disasters on vulnerable people in the globe. It is convened by the International Federation of Red Cross and Red Crescent Societies (IFRC) annually to bring together researchers, humanitarian workers and various experts to highlight the most imperative emerging issues as a key reference document for disaster management practitioners.
With a theme of "Leave No One Behind", the 2018 World Disaster Report lays out the problem that vulnerable people with significant humanitarian needs are left behind by the humanitarian sector in some situations. The report tries to examine the factors which cause the most vulnerable communities to be missed out, i.e. why they are "out of sight". The five factors that the report describes as the reasons of missing out those people in need of assistance are summarised in the diagram shown below. Apart from these five reasons, the report looks into the factors that inhibit the presence of internationally funded humanitarian assistance in the emergency field. These factors include: political, security and physical environment issues.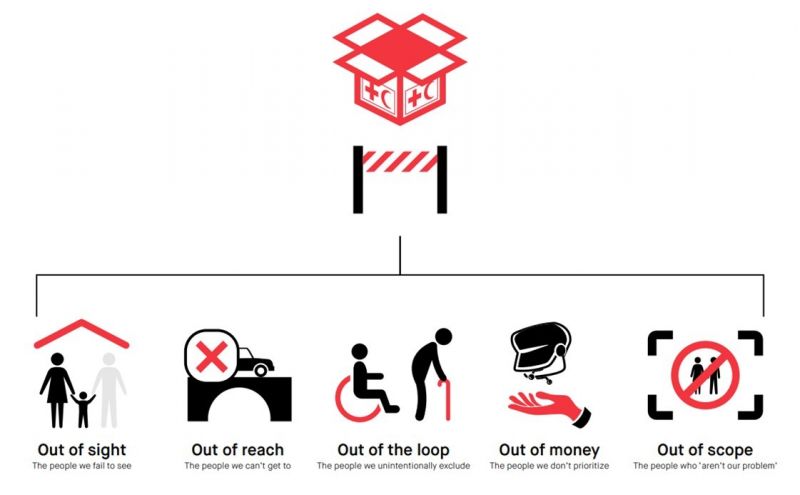 The five factors that the report describes as the reasons of missing out those people in need of assistance (source: IFRC World Disaster Report 2018) 
The report sets out recommendations in six main areas, and addresses specific calls to action in each area to government, international humanitarian organisations and donors. It also calls for a more conscious and transparent approach to ensuring the people in greatest needs will be prioritised for humanitarian assistance. The six main areas of recommendations are:
​Getting the incentive right

Recognising and supporting the role of local humanitarian action

Adopting a community-centred, participatory approach

Taking up our shared responsibiity for resilience

Inproving appropriate use of data and technology

Addressing the critical cases
For details, please view the full report or executive summary on IFRC's ​World Disaster Report 2018 - Leave No One Behind​ ​webpage.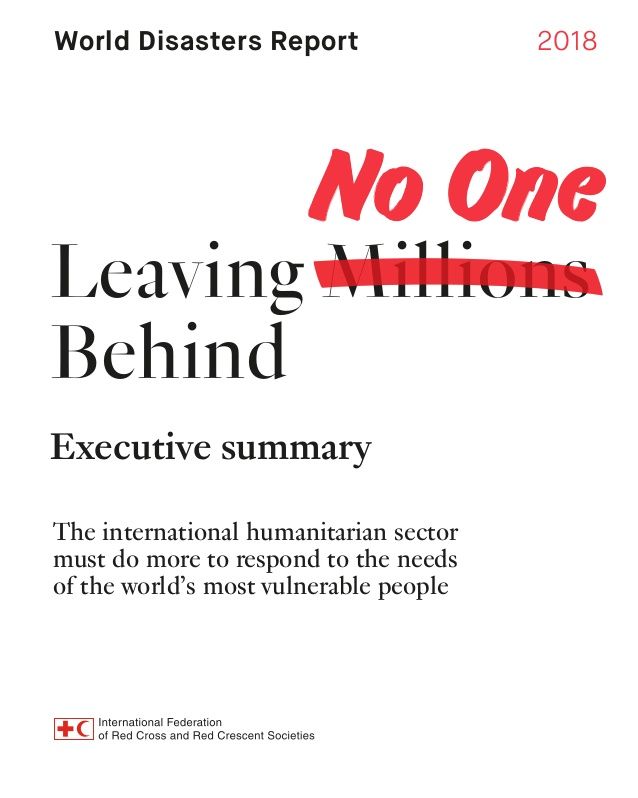 ​By Hong Kong Jockey Club Disaster Preparedness and Response Institute