You are here
Tai O Under Climate Change - A Preliminary Study on Disaster Resilience of the Community
01 November, 2016 Tuesday
Tai O Under Climate Change - A Preliminary Study on Disaster Resilience of the Community
Tai O is a low-lying area where serious flooding often occurs when typhoons and rainstorms strike.  When Typhoon Hagupit hit Hong Kong in 2008, seawater intrusion significantly affected Tai O - water level rose in minutes and once became one-storey high, causing damage to furniture and properties.
After Typhoon Hguapit, the government was aware of the flood risks induced by storm surges and started improving disaster preparedness and resilience in Tai O. In terms of hardware, the Civil Engineering and Development Department constructed a breakwater in 2010 in hopes of tackling flooding problems as a result of high tides. As for software, the Islands District Office has specially formulated an "Emergency Response Plan" for Tai O residents in 2009. The plan was a joint effort of relevant government departments and community organizations in an attempt to help Tai O residents handle flooding crises when typhoons hit.
HKJCDPRI collaborated with two NGOs, namely Tai O Sustainable Development Education Workshop and CarbonCare InnoLab in 2016 to carry out a community research titled "Tai O Under Climate Change - A Preliminary Study on Disaster Preparedness and Response Capacity of the Community" in order to understand residents' knowledge, level of participation and opinions on the "Emergency Response Plan" for Tai O. 
The community research lasted from July to October. A total of 204 Tai O residents aged 15 or above were randomly selected to complete a structured questionnaire (Population size was 2,041) and 70 residents were invited to focus group interviews. Results showed that a majority of interviewees were unfamiliar with the plan, which has already been in effect for seven years since 2009; over half (53%) of them had no recollection of the plan.
Besides, 71% of the respondents have never received warning signals issued by the "Emergency Response Plan"; 73% have never seen the government organize emergency drills in Tai O. Meanwhile, less than 10% were able to accurately locate the two temporary shelters in Tai O. Other survey data also reflected that the Plan has failed to work effectively. Residents were only notified of warning signals through district organizations and village representatives and were worried that in case of serious flooding in the future, they may not be able to respond effectively.
Tai O is a high-risk community under climate change conditions. In view of this, the government worked out the first ever local response plan in Hong Kong which played an exemplary role in building disaster resilience in the community. HKJCDPRI hopes that relevant departments would continue to advance the system and take into consideration measures such as increasing residents' engagement in flood drills, opening the two temporary shelters for visit, inviting telecommunications suppliers to support and strengthen notification network, setting up more bulletin boards on emergency escape plans and water marks, and so on.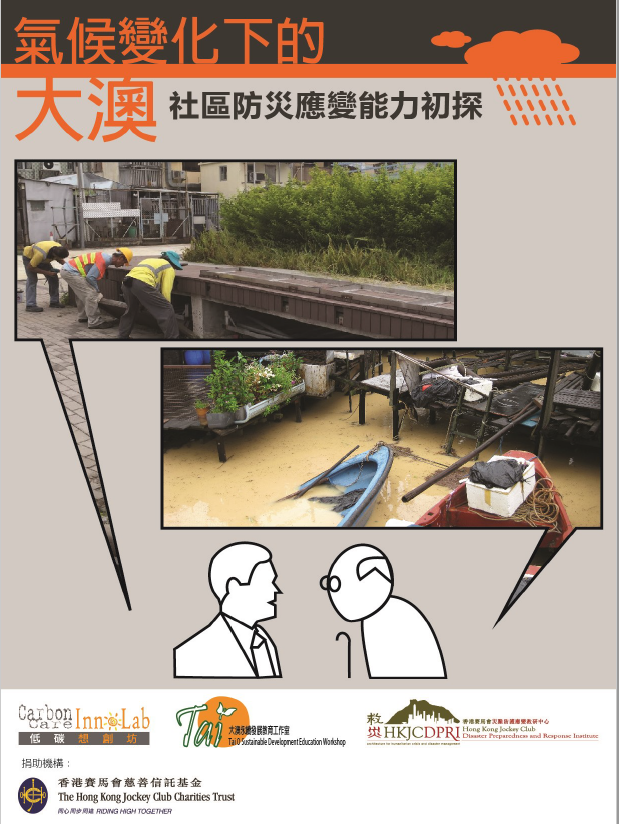 To view the result (Chinese version only):氣候變化下的大澳社區防災應變能力初探