You are here
Hong Kong Jockey Club Disaster Preparedness and Response Institute Launching Ceremony cum Scientific Seminar on Disaster Management
Hong Kong Jockey Club Disaster Preparedness and Response Institute Launching Ceremony cum Scientific Seminar on Disaster Management
The Hong Kong Jockey Club Disaster Preparedness and Response Institute (HKJCDPRI) was officially launched on 20 August 2014, in the face of a global upturn in the frequency and severity of disasters, as an operational centre of excellence in disaster preparedness and response in Hong Kong.
Over 300 guests gathered at Hong Kong Academy of Medicine at the launch to celebrate the establishment of HKJCDPRI under the generous funding support of HK$271 million over five years by the Hong Kong Jockey Club (HKJC) Charities Trust.
Housed in and led by the Hong Kong Academy of Medicine, HKJCDPRI aims to build Hong Kong as a regional and international leader in disaster preparedness and response training, and to promote local community resilience. A five-year programme will be executed to build the disaster preparedness and response capacity of healthcare professional, non-government organisations (NGOs) and members of the community. A platform will also be developed for continuous professional discussion, networking, policy development and accreditation in Hong Kong around disaster management issues.
As part of the ceremony, a Scientific Seminar on Disaster Management was held, featuring a keynote speech by Dr Ailan Li, Director of Health Security and Emergencies of World Health Organization (WHO) Regional Office of the Western Pacific. The keynote speech on "Managing Health Security and Disaster Risks" covered some hot topics and social issues such as Ebola, and was followed by a discussion forum.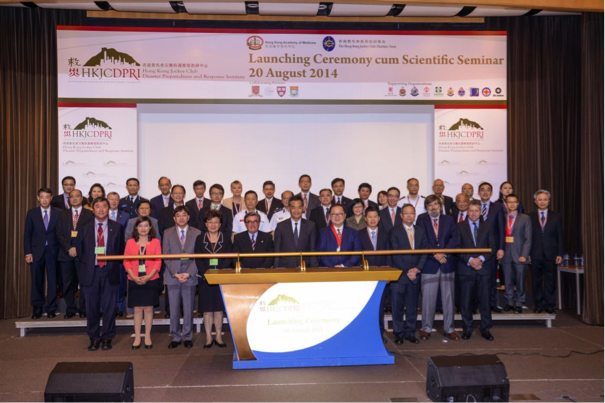 Officiating and special guests gathered to celebrate the launch of HKJCDPRI.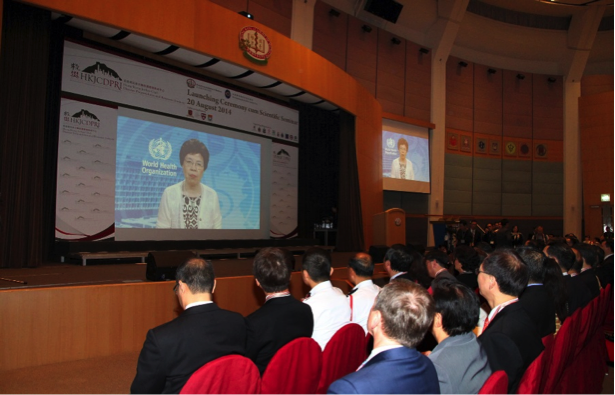 Video congratulatory message delivered by Director-General of WHO, Dr. Margaret Chan