You are here
Barriers and enablers in the long term recovery of communities affected by natural hazards: a review of the literature
23 January, 2020 Thursday
Barriers and enablers in the long term recovery of communities affected by natural hazards: a review of the literature
Four phases of disaster management are well-established in disaster related literature. The phases are emergency relief, recovery and reconstruction, mitigation, and preparedness. Long-term recovery is the process of restoring a community to a stable and functional state. An effective long-term recovery support to disaster-impacted communities enables the community to restore, redevelop and revitalise the environmental, social, economic fabric of the community and build resilience. Recovery should begin during response and aim to return the disaster-impacted area to pre-disaster status, or even better than before.
The report "Barriers and enablers in the long term recovery of communities affected by natural hazards: A review of the literature" , published by the Bushfire and Natural Hazards CRC, reviewed Australian and international literature on the long term recovery of communities that have been impacted by natural hazards. The review identified the barriers and the enablers of effective long term recovery. The key findings are:
Research into disaster recovery has been dominated by research on disaster planning, prevention and response, and there has been a dearth of research on long term recovery. Thus research needs to focus on long term recovery as the costs, both financial and social, are significant.

Recovery in the long term is a complex process with no clear end point. The process is not linear from short term to long term recovery, and nor are the same actors involved in short term and long term recovery. 

Local communities and their associated capitals are the core of successful recovery and thus community engagement needs to be central to immediate, short, medium and long term recovery policy and practice.

There is a need for a greater focus on restoration of environment and the community in line with the traditional response to restoration of the built environment.

Importantly there is a need to develop national monitoring and evaluation framework for long term recovery as most evaluations focus on the immediate response and short term response and lack consistency.
For full report, please visit this link: https://www.bnhcrc.com.au/publications/biblio/bnh-6568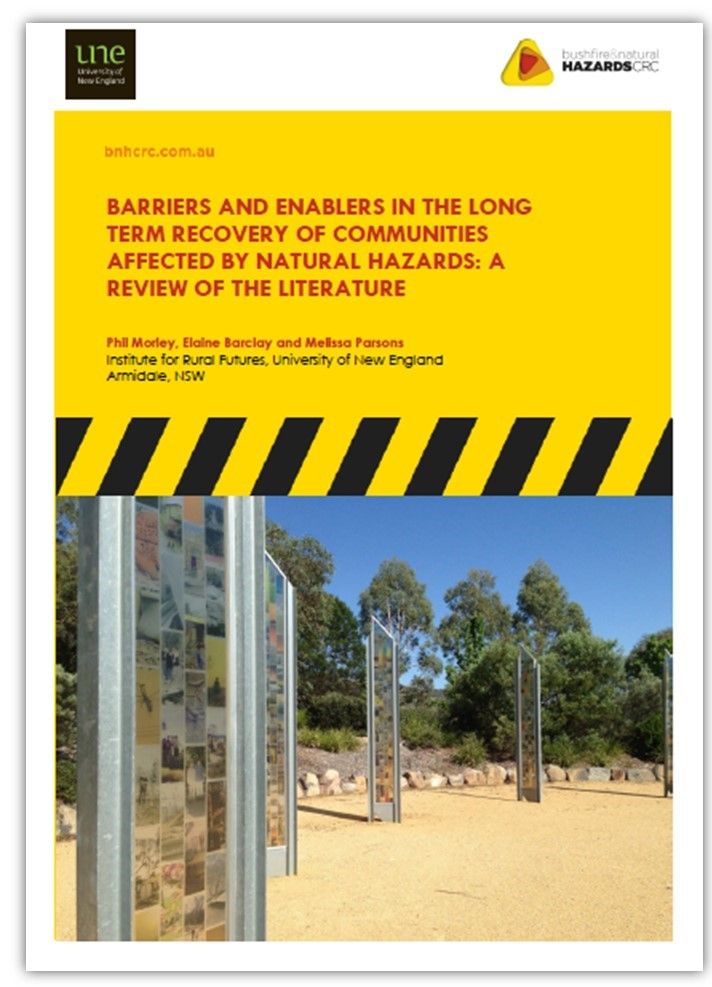 By Hong Kong Jockey Club Disaster Preparedness and Response Institute