You are here
The Hong Kong Jockey Club Disaster Preparedness and Response Institute Participated in the 20th World Association for Disaster and Emergency Medicine Congress
The Hong Kong Jockey Club Disaster Preparedness and Response Institute Participated in the 20th World Association for Disaster and Emergency Medicine Congress
The 20th World Association for Disaster and Emergency Medicine (WADEM) Congress was convened on 24–28 April 2017 in Toronto, with more than 900 disaster and emergency medicine professionals in attendance. The Hong Kong Jockey Club Disaster Preparedness and Response Institute (HKJCDPRI) submitted two abstracts on two trainings which incorporated virtual reality (VR) simulation elements that HKJCDPRI co-organised with the the Hong Kong College of Anaesthesiologists and Hong Kong Automobile Association respectively.
Abstract #1: High fidelity simulation with the use of 360-degree VR for aeromedical training in search and rescue 
Summarising "Air Crew Resuscitation Simulation Refresher Course" which is a part of regular training for the Hong Kong Government Flying Services, the presentation explored the benefits of using VR with participants wearing 360-degree goggles in search and rescue training. Besides creating an immersive environment to make the training more realistic, use of VR also allowed for consistency in training and enabled veterans experience to be effectively communicated to trainees.
Abstract #2: Use of VR in Motorsports Emergency Training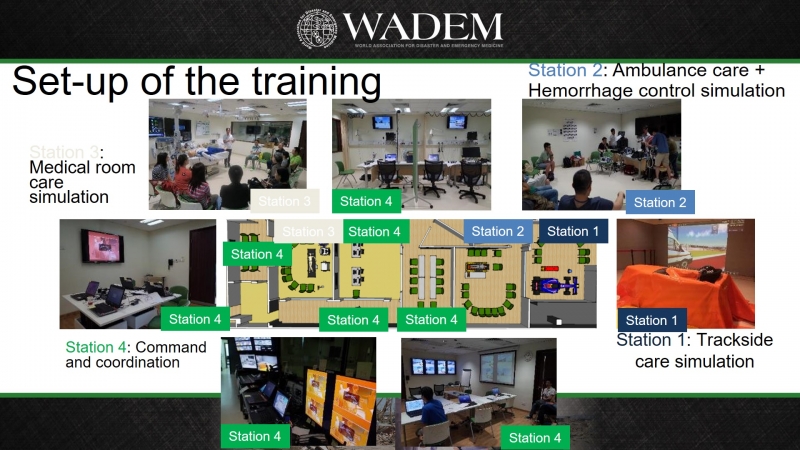 The course "Motorsport Medicine Incident Management Course" was organizsed to prepare for the first motorsport event in Hong Kong. Game-style VR was used in the training of command and control by creating scenarios that have not actually happened. The presentation stipulated that using VR enabled participants to make decisions with minimal information, as in real life. It also allowed for flexibility as the scenarios can be changed in an instance according to participants' responses.
Pre-congress workshop: Issues related to EMT Training Agenda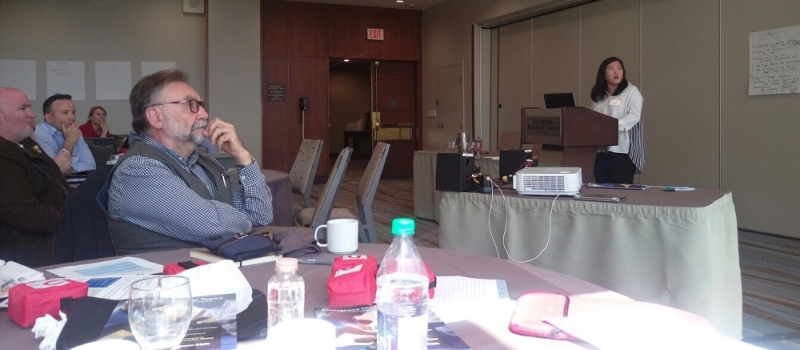 Tiffany Yeung, HKJCDPRI Project Coordinator of the Emergency Medicine Teams (EMT) project with University of Manchester, was also invited to speak on the experience of conducting trainings in Mainland China in the pre-congress workshop "Issues related to EMT training agenda". Tiffany spoke of the  objectives and modes of trainings of national Emergency Medical Teams (EMTs) in China, and also some of the strengths of the national EMTs, and existing training gaps.
Disaster simulation exercises are effective ways of learning to prepare healthcare professionals for real disaster response operations. As one of the HKJCDPRI's project components, a series of simulation-based learning components will be developed to create engaging and experiential learning opportunities. 
For enquires and exploration of partnership with HKJCDPRI, please contact us at [email protected] or at (852) 2871 8507.