You are here
Shenzhen Disaster Prevention and Reduction Promotion Day 2017
Shenzhen Disaster Prevention and Reduction Promotion Day 2017
The Chinese Government marked 12 May as the National Disaster and Risk Reduction Day since the devastating earthquake struck the Sichuan province of China on 12 May 2008. A series of community campaign and activities were supported by the Chinese Government, community groups and private organisations on the National Disaster and Risk Reduction Day every year.
The Hong Kong Jockey Club Disaster Preparedness and Response Institute (HKJCDPRI) has always valued community disaster preparedness efforts. On the National Disaster and Risk Reduction Day 2017, the HKJCDPRI participated in the community campaign in Shenzhen city as invited by the Shenzhen Emergency Governance Society.
The theme for 2017 was to reduce disaster risks in local communities and enhance response capabilities at grassroots levels. Echoing the theme, the HKJCDPRI set up an exhibition and educational booth to raise public awareness of disaster preparedness by use of Virtual Reality (VR) tools including the VR goggles and VR game-based software.
Upon donning the VR goggles, participants were totally immersed in real disaster scenes of landslides and fire accidents. The VR game-based software offered another experience for participants by allowing them to play a role in a disaster situations simulated by the software. Despite the rainy weather, the whole event attracted around 1 000 attendees.

Booth set by the HKJCDPRI to promote disaster preparedness.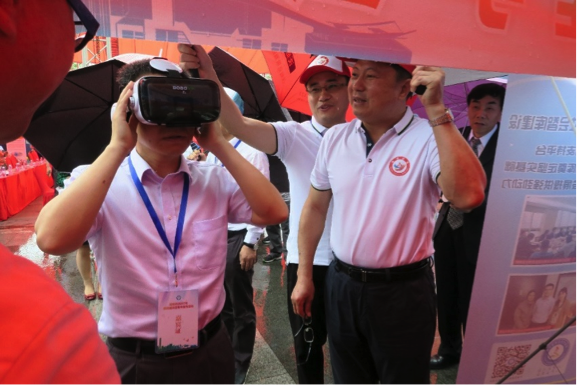 Participants were immersed in disastrous scenarios with VR goggles on.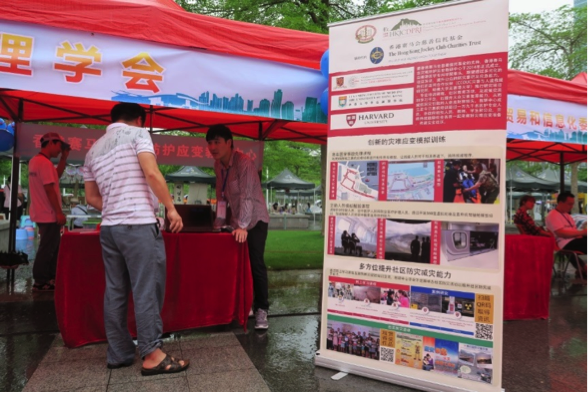 Demonstration of VR game-based software used for disaster preparedness training..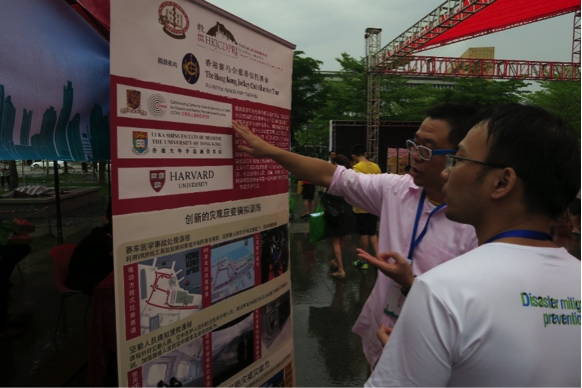 Participants showed interest in HKJCDPRI's work in disaster preparedness awareness