You are here
Disaster Education Programmes for Kindergartens and Primary Schools Kicked Off!
Disaster Education Programmes for Kindergartens and Primary Schools Kicked Off!
In March 2019, the Hong Kong Jockey Club Disaster Preparedness and Response Institute (HKJCDPRI) kicked off two new programmes on disaster education for kindergartens and primary schools.
An efficient and effective disaster risk reduction practice should be an all-hazard approach that integrates multi-sectoral efforts and public inclusive strategies. To build community's disaster resilience, it is necessary to spread the knowledge of disaster preparedness in the community, at home and at individual level. International agencies and research have been calling for the inclusion of children in disaster preparedness and reduction. Individuals at all ages can be empowered to engage in disaster planning, response and recovery and eventually enhancing community resilience.
The two pilot programmes aim to raise the awareness of children on risks of disasters; to acquire safety habits; to develop suitable attitudes and behaviors in case of emergencies and to develop basic skills in response to emergencies.
The pilot programme for kindergartens is a joint effort by the HKJCDPRI and the Child Education Centre for Teaching and Learning (CECTL), part of the Department of Childcare, Elderly and Community Services (CECS) of the Hong Kong Institute of Vocational Education (IVE). The programme will introduce and integrate disaster education into kindergartens' existing school curricula. During the programme, teachers from partner schools will receive training and technical support from the CECTL and the HKJCPDRI to design and develop education tools for achieving the goals of the programme. The programme will also engage parents in order to promote extended learning from schools to families.
The programme for primary schools targets at primary one to three students. Interactive dramas will be used to convey key disaster knowledge, risk concepts and proper attitudes in the face of emergencies around them and the community.
Emergency preparedness at work, at home, and in the community is everyone's responsibility. Please join us in supporting disaster education from early age in Hong Kong!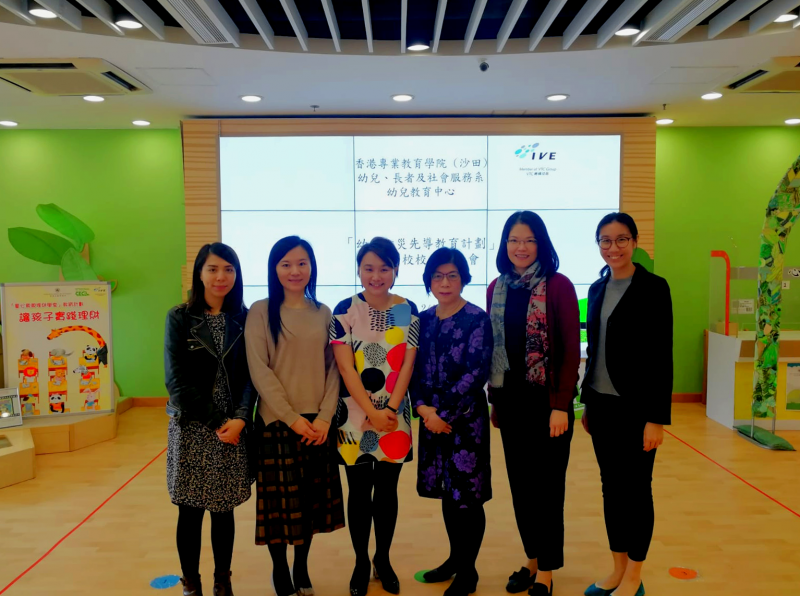 A group photo of the CECTL, the HKJCDPRI and Principals of partner schools of the kindergarten programme. From Left: Ms Angel Ng (Senior Manager, the HKJCDPRI), Ms Eva Lam (Director, the HKJCDPRI), Ms Heidi Cheng (Senior Lecturer, CECTL), Ms So Yee May (Principal, AEFCHK-EFCC Verbena Nursery School), Dr Cheung Chin Ling Gladys (Principal, Munsang College Kindergarten), Ms Yanny Chung (Manager – Community Education, the HKJCDPRI).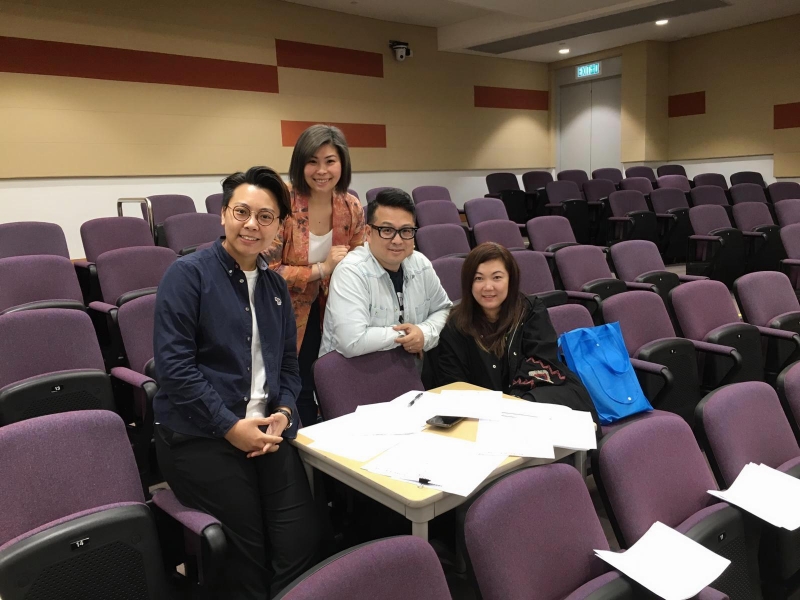 A group photo of the panel for the audition, which was held at the HKJCDPRI last week for selecting actors and actresses for primary school programme's interactive drama. From Left: Ms Labroe Lee, Ms Christine Fung, Mr Peter Ng, Ms Justine Woo.