You are here
Understanding the Wishes and Willingness of Different Sectors to be Trained as Professional Emergency Planners
Understanding the Wishes and Willingness of Different Sectors to be Trained as Professional Emergency Planners
The Hong Kong Jockey Club Disaster Preparedness and Response Institute (HKJCDPRI) is taking an initiative to assess the demand in structured training and certification in emergency planning and management for different sectors of industries in Hong Kong.
To understand the wishes and willingness of workers from different sectors to receive structured emergency planning courses and to become profesisonal emergency planners, the HKJCDPRI commissioned the Public Opinion Programme (POP) of The University of Hong Kong to collect citizens' views on the training needs in Emergency Management and Disaster Preparedness.
About 400 Hong Kong residents aged 23 or above, with university degree or above education were invited to participate in a survey on the needs and interest in a certification system in Emergency Management and Disaster Preparedness Training.
The survey findings were: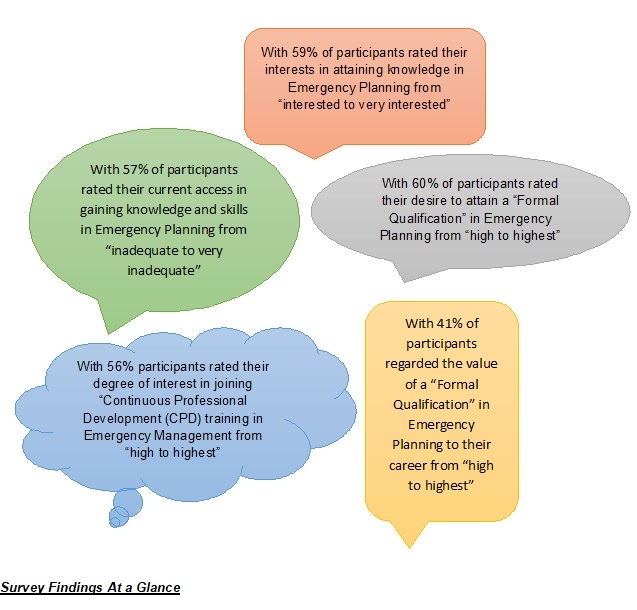 Survey findings indicate that the responders showed interests in receiving structured emergency planner training with formal qualification. The next step will be planning for in-depth interviews with key opinion leaders in the field, to assess the current situation and make recommendations for Hong Kong in the need of setting up a certification and qualification system for emergency planners. 
Apart from that, the HKJCDPRI will take references and seek opinions from expertise and experiences from overseas players such as FEMA in the United States, Emergency Planning College (EPC) in the United Kingdom, TAFE NSW in Australia and other renowned providers in the region. 
by HKJCDPRI