You are here
Experiencing disaster first-hand when disaster management falters - Part II
Experiencing disaster first-hand when disaster management falters - Part II
In Part I, I described myself falling ill in the UK last March, as I witnessed the complacency and fatally-slow response to the pandemic. Like watching a horror movie, only this was no fiction, it was a real disaster.
Fail to train hotline team to respond to severe cases
March 18: While the sterling pound fell to its lowest level (US$1.18) since 1985, my fever rose to 40 degrees celsius.  We called our GP but were turned away instead to call the Covid hotline 111, which had just received a £1.7m investment to offer clinical advice[1]. I was on hold for 15 minutes before a recording directed me to their website, where I answered the same questions about symptoms and travel history only to go back to square one. On and on for an hour, this vicious cycle wore me out further but I learned to beat the system by answering questions in a way to finally get someone to speak to.  Extracting my last ounce of strength, I answered the same questions and the call-handler advised a clinician will call back in two hours. It was midnight and desperate not to miss the call, I clutched my phone and scarcely slept.
Seven hours later, my phone rang and after retelling my symptoms, she asked me to call Public Health England. Relief turned to disbelief - I didn't want to make any call. However, my daughter insisted, "Mom, you need to get to hospital before they get full!"  I forced myself to call and after a long hold, I explained what happened and he replied, "You should call 111 - you have Covid symptoms and they should be helping you." The hotline was a sheer mockery!
I cannot remember how the days passed - my fever 'yo-yoed' and spiked to 41 degrees one night and I called 111 again reluctantly. The same questions but this time, the call-handler acknowledged my critical condition and referred me on. The clinician called thankfully in two hours but advised me "to open the window and remove some clothing" to ease my fever. Between disgust and disappointment, I complied and survived another day with no respite. Yet, I was lucky to get through twice on 111[2] as news reported that the system became so overwhelmed and stopped working. Others had waited three hours before getting cut off, and I couldn't bear to think how many sick patients living alone must have gotten worse in despair and eventually died for the lack of prompt attention.
By 24 March (one day after the first UK lockdown started), I was extremely weak and could hardly register what was going on. My breathing became increasingly difficult and when it deteriorated the next morning, my husband called 999. They arrived swiftly after a call to verify my condition, and found my oxygen saturation level to be 90% only. They whisked me carefully to the ambulance but I felt very distressed that my husband could not follow me to hospital.
Travelling in an ambulance for my first time, I realised that I could die and not see him again. It was then a familiar verse came to mind: "For me to live is Christ, to die is gain". I felt overwhelmed by an incredible peace and now I calmly deliberated on my "last wish"  -  what I would tell Mother to reassure her where I was going.  Looking back, I wonder if this exceptional clarity (compared with the stupor in my past week) was "breathed" partly by the emergency oxygen provided in transit.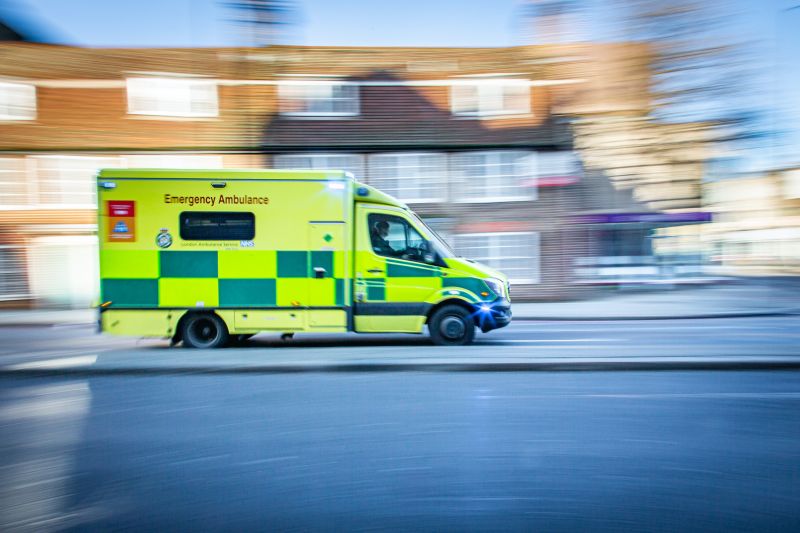 Photo by Ian Taylor on Unsplash
Reaching Oxford's John Radcliffe Hospital, I was wheeled into the emergency ward and nurses began to conduct various tests including the Covid swab test. It was very uncomfortable with my throat and then my nose. Next, they took my blood and chest X-rays too.
After the tests, I was transferred to an open ward with isolating curtains. The consultant doctor visited and advised that my result would be available the next day. Oddly, he considered me Covid-positive regardless of the result, as he said I had all the symptoms including pneumonia, adding that false negatives were frequent.
Fail to equip and protect your teams by regular stock-check on contingent resources
I was struck by how unprotected the hospital staff were. While those who tested me had surgical masks, gloves and plastic aprons on, there were many who walked around with nothing but their uniforms. Since returning to Britain, it was impossible to buy masks and we were duped two times on Amazon.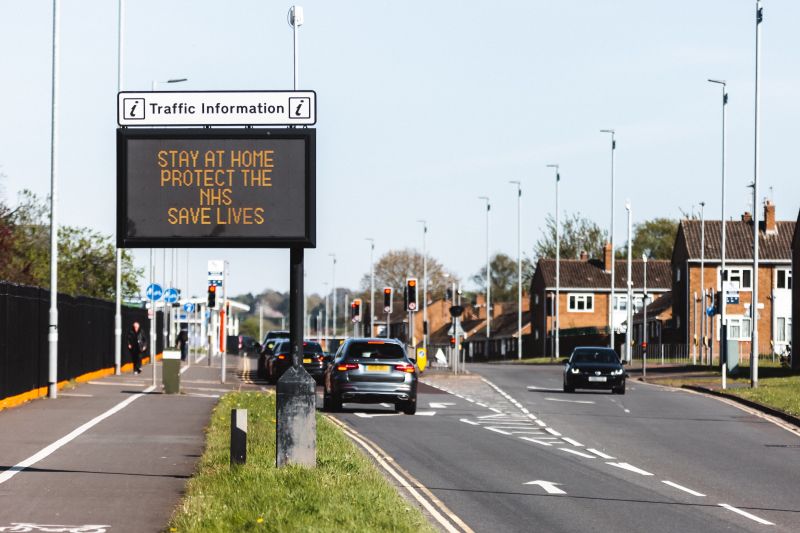 Photo by iMattSmart on Unsplash
Little did I know that on 19 March[3], the government had downgraded COVID-19 as a less infectious disease, which meant a lower level of PPE requirement for hospital staff!
PPE shortage amongst key workers dominated headline news for several weeks into May. BBC Panorama[4] discovered there were no gowns, visors, swabs or body bags in the UK's pandemic stockpile when the virus struck. Advisors had warned the government about the missing items in 2009 but nothing was done all these years. Also, the stockpile catered for influenza only but not coronavirus which remains infectious outside bodies for a longer time. There seemed no thought to cover everything with pandemic potential in their disaster planning, and it probably killed over 620 NHS and care workers in this pandemic[5].
Fail to consider different stakeholders especially the vulnerable
Several hours after the consultant's visit and a light meal, the nurse said I could be discharged. I was shocked as my result was not ready but she assured me that it was okay to go home with antibiotics prescribed for my pneumonia. Another shock was they released me to walk out freely (donning a surgical mask) to meet my husband who was also wandering around the hospital looking for me. He was aghast that most hospital workers had hardly any PPE on, which meant he could infect them if he was a carrier and vice-versa. Still, we were glad to get home.
We figured they hurried to discharge me before my result was intended to free up hospital beds. Around the same time, UK hospitals were discharging some 25,000 elderly patients without testing Covid-negative (mid-March to mid-April)[6]. This led to a parallel pandemic in care homes, which coupled with insufficient PPE saw 16,000[7] deaths by late May. The decision to test all patients before hospital discharge was made only on 15 April.
Back home, I felt very weak but my fever and cough disappeared. The hospital called the next day to advise my Covid results were negative, and transferred my case back to my GP. I finished my antibiotics, but was still ill. We called our GP and they sent a junior doctor for a homevisit. Garbed with apron, gloves, and surgical mask, he apologised profusely for wearing so much PPE to see me. Taken aback by his apology, I assured him that his attire was appropriate. After examining me, he referred me to my GP and I asked for a second course of antibiotics. Over the phone, he informed me that I'd need seven weeks to recover, and my liver had been affected by the pneumonia (from hospital tests), so I was booked for a follow up blood test in April. Thankfully, the test showed my liver had healed.
In the following weeks, I was still easily short of breath on exertion like standing or speaking.  Nonetheless, my appetite improved and I could gradually speak in longer durations before getting exhausted. Friends sent video clips on breathing exercises but what helped me was singing. After trying to sing "Amazing Grace" one morrning, I felt my lungs stretch open and so I tried singing daily. However, my mental capacity lagged  noticeably behind my physical recovery. An avid reader and writer, I found reading text messages laborious, and writing extremely difficult. Online banking became a big challenge, requiring several attempts to complete a simple transaction. Furthermore, my sense of smell was gone and I sorely missed the fragrance of spring in our garden.
With summer approaching, a friend sought my help with translating and recording an audio script for a project. Reluctantly, I committed to this mammoth task and though every step seemed like a baby learning to walk, I kept working through the growing daylight hours. After weeks of this mental gymnastics, I started feeling the chains on my brain loosened miraculously. It was July when I heard a recovering Covid patient on YouTube describe his 'brain fog' experience that I recognised my condition too.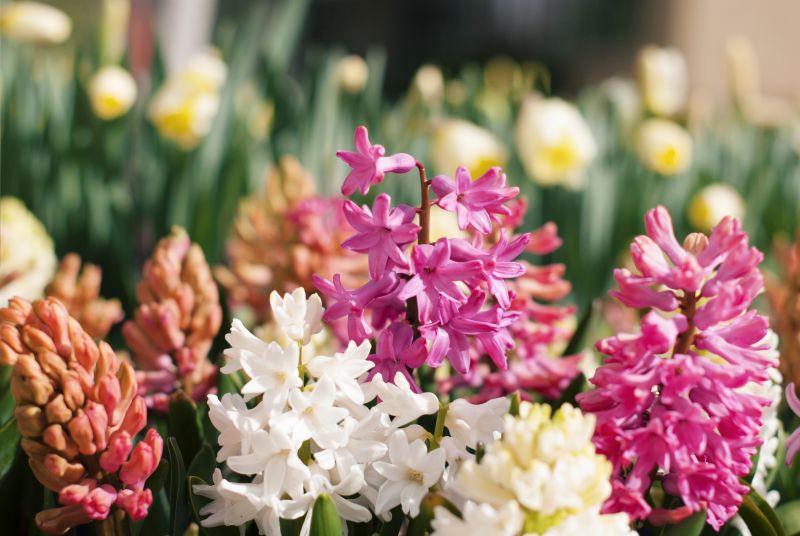 Photo by Aubrey Odom on Unsplash
Today, I suffer occasional memory lapses while I can faintly sniff the hyacinth blossom before me as we hunker down our third national lockdown. I've had no medical follow-up after my blood test last April, and my husband still wonders if I had the virus after all. Covid or not, I'm grateful to come out of this disaster alive. My heart goes out to the families of the 117,000[8] in the UK who did not.
[end]
Reference:
[1] NHS to invest £1.7m in helpline to tackle coronavirus call surge, itv, 2 March 2020
[2] The NHS 111 Coronavirus Helpline Is Overwhelmed. What You Need To Know About Getting Tested, Huffpost, 13 March 2020
[3] How poor planning left the UK without enough PPE, Financial Times, 2 May 2020
[4] Coronavirus: UK failed to stockpile crucial PPE, BBC, 28 April 2020
[5] Coronavirus: NHS workers who died in the pandemic, BBC, 18 September 2020
[6] Coronavirus: Sending untested patients to care homes 'reckless' - MPs, BBC, 29 July 2020
[7] Why did so many people die of Covid-19 in the UK's care homes?, The Guardian, 28 May 2020
[8] Coronavirus (COVID-19) in the UK, UK Government, retrieved on 14 Feb 2021 
About Nora Yong
A long term resident in Hong Kong, specialising in corporate and marketing communications with global responsibilities. Originally from Singapore where she graduated and practised dentistry briefly before relocating to Hong Kong. Currently living in the UK where she continues editorial consultancy work for clients in the corporate sector and academia.