You are here
Use of Virtual Reality (VR) to Simulate a No. 3 Fire Incident in Tsim Sha Tsui
Use of Virtual Reality (VR) to Simulate a No. 3 Fire Incident in Tsim Sha Tsui
The Hong Kong Jockey Club Disaster Preparedness and Response Institute (HKJCDPRI) uses Virtual Reality (VR) technology to create disaster scenarios for training of emergency responders. On 10 May 2019, a training for 40 incident commanders of the Fire Services Department was conducted at the Fire and Ambulance Services Academy.
VR technology was used to create a fire scene at an industrial building in Tsim Sha Tsui for the training. As the fire was upgraded from no. 1 to no. 3, participants acting real roles of incident commanders assessed the evolving situation and selected suitable response actions to protect life and suppress the fire.
Compared to traditional paper-based simulation where there is no visualisation of the incident scenes, VR scenarios enhance learning experience and outcomes by immersing participants in a high fidelity, visualised and interactive simulated emergency scenario. Such enhanced immersive training experience allows participants to exercise more realistic decision making and interactions.
Apart from fire scenes, the HKJCDPRI has also developed a wide range of VR emergency scenarios such as road traffic accidents, explosion incident, chemical spillage, deliberate act of attack, landslides, etc, for training of emergency planners. For enquiries and partnership, please contact hkjcdpri@hkam.org.hk or (+852) 2871 8857.
VR scene on no. 1 alarm fire breaking out at an industrial building in Tsim Sha Tsui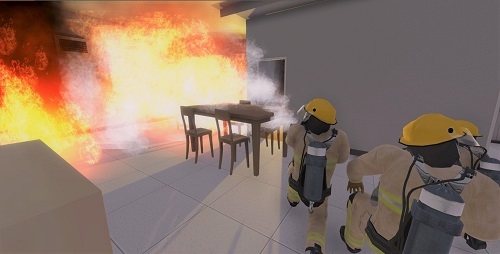 VR scene on an indoor fire scene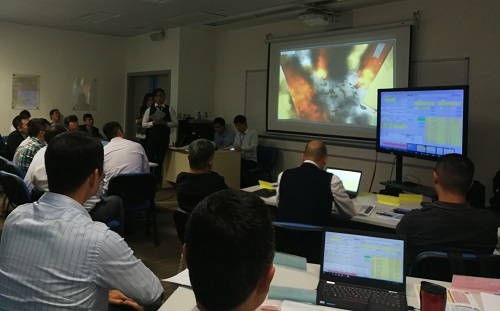 A total of 40 incident commanders of the Fire Services Department attended the training with use of VR technology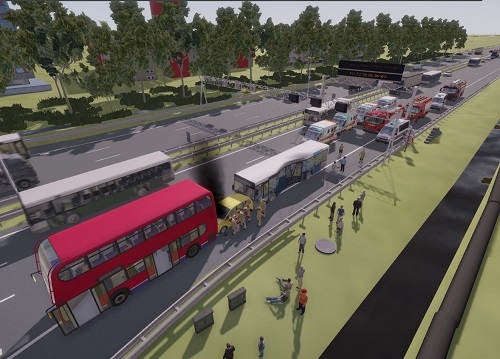 VR scene on the road traffic accident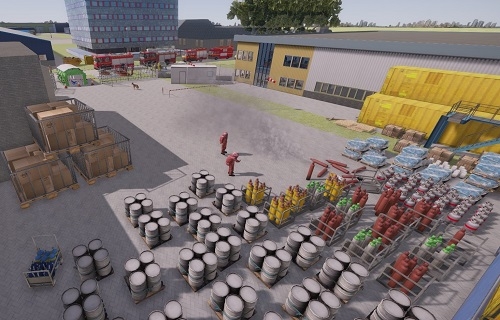 VR scene on the chemical spillage